Pastor Johnson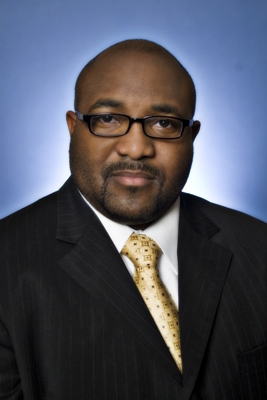 Born March 29, 1975, Darron Maxwell Johnson is a native of Baltimore , Maryland . He graduated from Baltimore Polytechnic Institute and went on to receive a Bachelor's degree in Religion from Morehouse College in Atlanta , Georgia . While in Atlanta , Darron worked as the Youth Pastor of New Life Baptist Church . In 2003, he moved his family to Oklahoma City where he became the Youth Pastor of Prospect Missionary Baptist Church . That year he was also accepted into the Clinical Pastoral Education Program at the Veteran's Affairs Hospital (Oklahoma City) and the Master's of Arts in Religion at Oklahoma City University, Wimberly Graduate School of Religion.
In April 2005, he was called to pastor First Baptist Church- South in Weleetka , Oklahoma . Darron completed the CPE program in August 2005. In 2007, Rev. Johnson returned to his home church to serve as the Youth and Young Adult Pastor of the Prospect Missionary Baptist Church in Oklahoma City , Oklahoma and a full time Chaplain at Odyssey Healthcare.
On June 4, 2008, Reverend Johnson was called by the Emmanuel Fellowship Baptist Church to serve as its second pastor. Rev. Johnson succeeds Rev. A.E. Royal, Sr., who was the founding pastor of Emmanuel Fellowship, went home to be with the Lord after a lengthy battle with cancer. Pastor Johnson now is working in this area of God's vineyard to continue the legacy of building God's kingdom.
In addition to these pursuits, Pastor Johnson also heads a beautiful family with his wife and friend Erika. Together they are raising three delightful children Michael, Gabriel and Erin. He is also a proud member the College of Pastoral Supervision and Psychotherapy and Omega Psi Phi Fraternity, Inc.
Pastor Johnson
---